Air Conditioning Services in Coconut Creek, FL
Welcome to Big C & Sons! We are a premier air conditioning contractor in Coconut Creek, FL, committed to providing top-notch HVAC services to residential and commercial property owners. We understand the importance of having a reliable and efficient air conditioning system in the hot and humid Florida weather, and that is why we offer comprehensive services to keep your AC running smoothly all year round.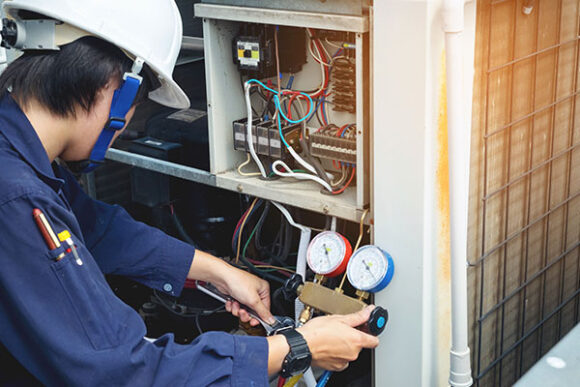 AC Repair
We provide AC repair services that are prompt, reliable, and affordable. We understand that AC breakdowns can happen at any time, which is why we offer emergency repair services to ensure that your AC is up and running in no time. Our team of experienced technicians is trained to diagnose and repair all types of AC problems, from a malfunctioning thermostat to a refrigerant leak.
AC Maintenance
Regular AC maintenance is essential to ensure that your AC is running at peak efficiency and to prevent costly repairs. We offer comprehensive AC maintenance services that include cleaning the AC coils, checking the refrigerant levels, and inspecting the electrical components. Our technicians are trained to detect potential problems before they turn into major repairs, saving you time and money in the long run.
AC Installation
If you need a new AC installation or replacement, Big C & Sons has got you covered. We offer a wide range of AC systems from reputable brands to meet your specific needs and budget. Our team of experienced technicians will help you choose the best AC system for your property and install it efficiently and professionally.
We understand that AC installations can be disruptive to your daily routine, which is why we work quickly and efficiently to minimize downtime and ensure that your property is comfortable and cool in no time. Our technicians will also provide you with tips and guidance on how to maintain your new AC system to ensure that it lasts for many years to come!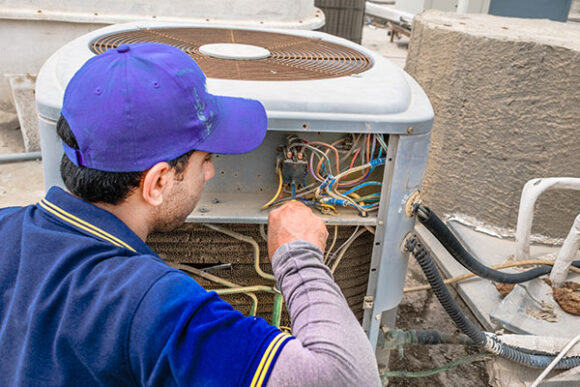 FAQs
How often should I have my AC serviced?
Routine maintenance of your air conditioning system is vital to its long-term efficacy, efficiency, and durability. We highly recommend that you schedule annual maintenance services by our team of experts to ensure your unit is running at its peak performance and is going to hold up as many seasons as possible.
Our AC servicing will involve a thorough inspection of all parts and components of your air conditioner, ensuring it's in proper working condition. We will also check and replace your air filters, clean the evaporator and condenser coils to eliminate debris buildup, tighten loose electrical connections, lubricate any moving parts, inspect your refrigerant level, and perform any other necessary repairs or adjustments.
What size of AC unit do I need?
If you're unsure which size of AC unit is suitable for your home or business, you may end up with an AC unit that doesn't fully cool your premises or burns out faster than it should. Our team of experts can help you choose the right size of AC unit for your property based on factors such as your cooling requirements, the size of your home or business, the amount of natural light, the number of occupants, and your budget, among other factors.
It's important to note that getting an AC unit that is too small or large for your premises will negatively affect efficiency, increasing energy bills and causing wear and tear to the unit. We have the necessary tools and expertise to evaluate your premises and recommend the right-sized unit for you.
When should I replace my AC unit?
Air conditioning units are built to last and handle harsh conditions. However, there comes a time when repairs and maintenance can no longer cut it. Our team will give you clear recommendations based on the life of a unit and current levels of efficiency. Signs that your unit needs replacement include excessive noise, frequent breakdowns, high energy bills, constant air conditioning repairs, more expenses than benefits, and more.
Need an AC Specialist?
Here at Big C & Sons, we are committed to providing top-notch AC services that exceed your expectations. Whether you need AC repair, maintenance, or installation, our team of experienced technicians is here to help. We pride ourselves on our prompt, reliable, and affordable services, and we are dedicated to ensuring that your AC system is running smoothly all year round.
At Big C & Sons, we are proud to serve Coconut Creek and its surrounding areas.
Contact us today to schedule a service or to learn more about our HVAC services in Coconut Creek, FL. We look forward to serving you and helping you keep your property cool and comfortable!